"They focus their research interest on elucidating the mysterious ecology of hydrosphere organisms, an endless source of fascination."
Sakai: Both you and I are engaged in research into ocean organisms, and today we have been given the opportunity to share our views.
I hope we can talk about many things today.
Tomano: I have been also looking forward to this opportunity and hope to discuss many things with you.
First, your laboratory has conducted surveys on the ecology of marine fish over many years.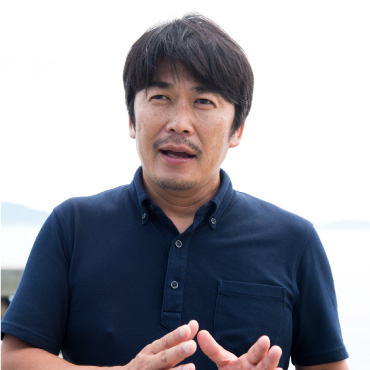 Sakai: Yes. Prof. Kenji Gushima(*1), one of my predecessors, started research at Kuchierabu-jima Island(*2).
He is among the first-generation diving researchers. Researchers conventionally studied ecology by dissecting landing fish. In around the 1970s, they themselves started diving to observe fish in the sea, using scuba equipment. This method is now commonly employed.
My laboratory has a favorable background, having been established by Prof. Gushima. Since 1970, over the last 50 years or so, we have used facilities rented through personal connections for our research activities, rather than Hiroshima University's official facilities. On the island, we mainly survey the lives of coral reef fish.
The focus of my research is the behavioral ecology of fish. I study intra- and inter-species relationships related to breeding and foraging activity, lifecycle patterns and the like, or to put it simply, the life and societies of fish. Using scuba and other gear, I make individual identifications and record the ways of life of fish in their natural habitats. My research is aimed at understanding the interesting aspects of their strategies, behaviors and ecology.
In addition to Kuchierabu-jima Island, I have also conducted research that places particular emphasis on sex change in fish(*3)in the Seto Inland Sea. As a subwork involving students, I sail out to various seas to conduct research on the Training and Research Vessel TOYOSHIO MARU. The Training and Research Vessel TOYOSHIO MARU is also used for research on the biota and fish fauna related to global warming, as well as research on "fishery resource science" using collected organisms.
Tomano: I've heard that your observation surveys have produced many results. What is your research policy?
Sakai: I encourage my students to study fish that they find interesting. Something "interesting" here means something that challenges our conventional understanding of what fish are like. I believe our role is to identify the possibilities of fish and interpret them to help people learn about them. I hope people find my research interesting. "Interesting" is the best compliment for me. It is, of course, also important to conduct research that is useful.
What about you? You have become very famous for your research on Sepioteuthis lessoniana.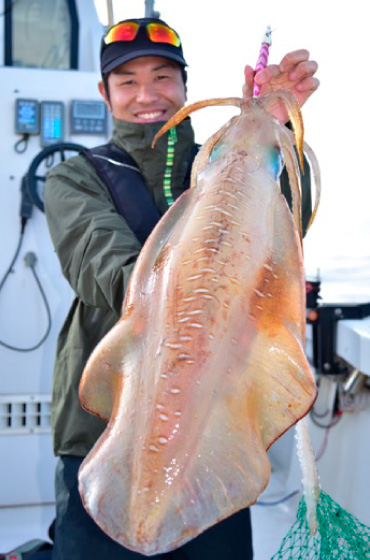 Tomano: I still have many things to accomplish but, for now, I'm thinking of continuing my research on S. lessoniana, the subject of my doctoral thesis, which has been well received.
As you know, while the amount of fish resources has decreased due to overfishing, the amount of squid has increased. This is because the lifespan of a squid is one year, so that even if the environment changes, they can adapt for the new environment and produce eggs more quickly than other marine species. That's why squid are considered a promising resource for people to use. Among squids, S. lessoniana is particularly delicious, and is called the king of squid, although not many people have studied its way of life. Therefore, I started studying the ecology of S. lessoniana using genetic information.
By elucidating its ecology, I aimed to achieve sustainable fishing, which are two opposing activities simultaneously: exploit S. lessoniana for human use and, protect it as an natural resource. I have so far achieved four results from genetically analyzing squids: the distribution of three types of S. lessoniana (genus), and their stock structure.
Since the major theme of our laboratory is "to learn the ways of life of marine organisms that people use", this might be like that of your laboratory.
Sakai: Yes, it is. Your research is interesting to me, too. I had never imagined that there were three types of S. lessoniana, or that the distribution and depth of their habitat differed from type to type. This is really surprising to me.
Whether we start research to find something interesting, which is my approach, or we conduct research for the purpose of studying squid as our resource, we end up reaching the same destination: something interesting.
I think your research results are very attractive and can be applied to any area.
Tomano: Thank you. Since as my policy, I emphasize the importance of "being of advantage", I hope to achieve a balance between eating and protecting squid. This way fishermen and all other people who are involved in the area related to squid will be happy. This is the aim of my research.
Sakai: You are shedding new light on ecological research using genes. This is the present version of Prof. Gushima's attempt to use scuba equipment in marine research. With a method that nobody has thought of and a technique that will become essential to the next-generation ecological research, you are fighting for the future. You never neglect field work and, as a scientist, you fully recognize the importance of observing organisms with your own eyes.
You are a promising researcher in that sense.
"Before deciding to become a researcher; the research environment of Hiroshima University"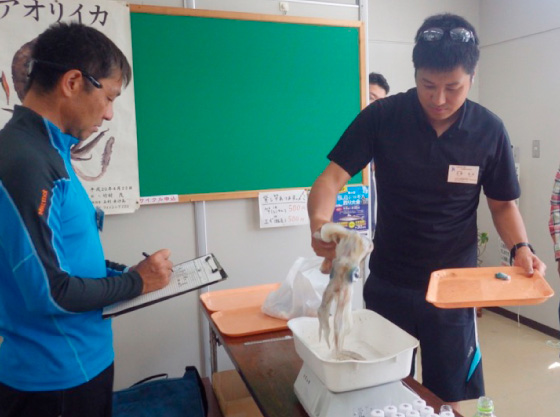 Tomano: I decided to become a researcher when I was in the second year of the master's program.
Until then, I had been thinking of becoming a senior high school teacher in Okayama, where my hometown is.
But about two months before the teacher recruitment examination, my teaching supervisor Assoc. Prof. Tetsuya Umino(*4) said to me that, "Maybe you should become a researcher. I think you can achieve much more as a researcher."
While studying for the teacher recruitment examination, I asked myself, "Is this really what I want to do?" His advice made me realize that, instead of thinking based on logic, I should think based on what makes me feel most excited. This is why, I chose to become a researcher.
Researchers do not know where they will be in the world and what they will be doing a year or two from now. Needless to say, you never know what you will become after 30 years. I was attracted by this unknown and the possibilities of the unknown.
But Dr. Umino later said to me that "What awaits researchers is a thorny path."
Sakai: How impressive! He is a man of the sea. (Laughs)
Tomano: (Laughs) A man goes to the ocean because something is waiting for him there.
Sakai: That's true. That's exactly what makes you decide to become a researcher. (Laughs)
I did want to become a researcher, but I was not quite sure about becoming a university teacher. One of the major reasons that made me decide to become a researcher was an international academic conference held in 1991 in Japan, when I was in the second year of my doctoral program. The first time I became interested in animal behavior and ecology was when, as a senior high school student. I read a book written by Konrad Lorenz(*5), a pioneer in the field of ethology and a Nobel laureate in Physiology or Medicine, which inspired me to start research on fish at a university where I could conduct research on animal behavior and ecology. When I could not decide whether to move on to the doctoral program, I participated in a professional conference organized by Prof. Toshitaka Hidaka(*6), who translated Lorenz's book that I mentioned earlier. To that conference, he invited many prominent and well-known researchers in a new discipline of ethology called behavioral ecology.
Looking at all these attractive researchers, I thought I would like to conduct and present research that would amaze them. I also wanted to maintain relationships like those I had developed at the conference. I thought I should keep going to fulfill my dream.
So, I took the doctoral program and, as one of the options to continue my research, I became a university faculty member.
Tomano: When did you join Hiroshima University?
Sakai: In 2001. Before joining Hiroshima University, I belonged to the faculty of economics at a private humanities university, where I was able to teach students the wonder of the discipline of behavioral ecology in my biology class, but I was unable to foster any research apprentices.
I thought I wanted to help develop university students who had the same ambition and purpose as I had had when I was a university student. That is why I joined Hiroshima University.
I had long known about Hiroshima University, and about Prof. Gushima and his research on fish ecology, which I found interesting. There was a "mini-academic conference" where researchers from laboratories of various universities gathered. The presentations made by students of Hiroshima University were particularly powerful. The participants at the conference were straightforwardly passionate in their research.
I didn't think there were many meetings of this kind. That impression still remains with me now.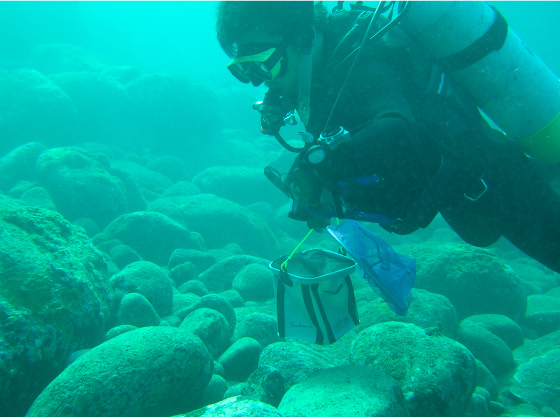 Tomano: My parents work in oyster farming in Okayama. Speaking of oysters, the best place to eat oysters is Hiroshima. (Laughs) For this simple reason, I chose Hiroshima University, where I met my supervisor Prof. Tetsuya Umino. I think he is the main reason why I became a researcher.
If I had not chosen Hiroshima University, I think it would have been difficult for me to become a researcher.
Sakai: It takes a dramatic encounter to become a researcher, doesn't it?
Tomano: That's certainly true.
I can enjoy almost anything every day. How about you? What do you think is the best part of the research?
Sakai: Well, for example, when you face a most unexpected phenomenon. But, it is also exciting when you can achieve what you expected. The entire process of approaching the mysteries of organisms is exciting. When I identify something that nobody has reported or identified before, I feel thrilled. When I can publish the results, I again feel excited and happy.
Tomano: I am also excited about becoming the first person to discover something that nobody has ever seen before in the world.
Since nobody else but me knows about it, the intellectual curiosity thrills me. When I publish my paper, I feel like my own child is born.
Sakai: Oh yes. (Laughs)
Tomano: The more difficulties you face before publishing a paper, the more excited you feel when you finally publish it. I feel like "My child is finally born!"
Also, although I am still inexperienced, I am able to have a lot of opportunities to meet people beyond our positions as a researcher.
For example, when I became acquainted with a person in the fishing gear industry, he suddenly introduced me to the president of his company. And when I became acquainted with a fisherman, he introduced me to the president of the fishermen's association and a prefectural official in charge of developing fishery policies.
In my case, I can expand my world by sharing my views with those related to S. lessoniana. There are also opportunities to connect people with people, and this stimulates them to conduct something interesting together.
Conducting research that will be beneficial to me and to others, and eventually to everyone around the world, is the real happiness of being a researcher.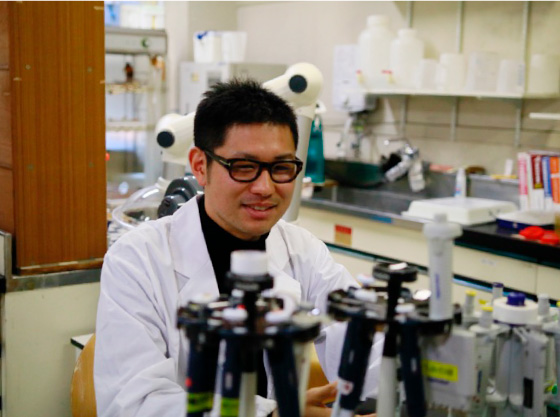 Sakai: In the School of Applied Biological Science of Hiroshima University and the School of Applied Biological Science, which governs the School of Applied Biological Science, there are laboratories for studying fish. The members of the laboratory next to you are familiar with fish, as are those in the laboratory upstairs. This is a research organization where researchers who are passionate about fish gather. This is the most attractive feature of the school and the graduate school.
I am very satisfied with this research environment.
Tomano: All the faculty members in our graduate school have close relationships with the students. None of them behave arrogantly and act big in front of students just because they are professors. They just don't look like professors. They wear jeans and a T-shirt. When you pass them by, they will cheerfully say, "what's up" to you. (Laughs)
Sakai: Exactly. (Laughs)
Tomano: The closeness between the students and the teachers is partially due to the compact size of number of students in our department. I was a student at Hiroshima University for nine years and, through my experience there, I realize that the professors carefully observed each student.
Sakai: They also have good communication with each other, which creates a favorable environment that helps the students grow together.
One of the major advantages in terms of facilities is that the university has its own training ship, the Training and Research Vessel TOYOSHIO MARU(*7). No other university in the Chugoku-Shikoku region has its own training ship. Sailing out on the ocean must be an impressive experience for the students. I think they will never forget the views of the Seto Inland Sea from the ship.
What they see there will remain etched in their minds as they aim to become researchers, like you.
Tomano: You are right. Very few universities have their own training ship and fishery laboratories.
One more thing that I find advantageous is that there are students from other departments on the same campus. I have organized a joint research project with students of the Faculty of Education on educational issues.
We can learn a lot from those in other fields and also make many friends. This is only possible at Hiroshima University, with its wide range of departments.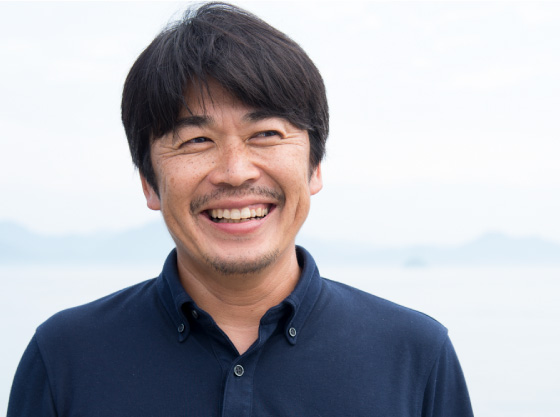 Sakai: There are excellent students at the graduate school. You studied at Hiroshima University's faculty before enrolling at the graduate school, but many of the students of my laboratory enrolled at the graduate school after finishing their study at a university other than Hiroshima University.
My laboratory's policy is to evaluate students based on their willingness to learn. So, willing students gather at my laboratory. Students from Hiroshima University are of course highly enthusiastic about learning. Students enrolled at my laboratory from other universities are just as enthusiastic as those from Hiroshima University. This combination generates positive effects.
Tomano: Students from other universities are amazing. Half of the members of my laboratory are also from other universities.
"Amazing support programs for students, which convince you that Hiroshima University was the right choice."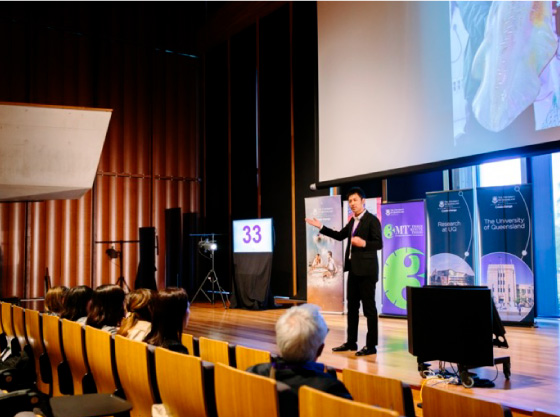 Sakai: You were awarded with the Excellent Hiroshima University Student Scholarship(*8) and the Excellent Student Award(*9). You were also a winner at the Three-Minute Competition for Future Doctors 2015(*10). As a faculty member, I think you are truly a promising student.
Tomano: Thank you very much. My academic level was not high enough to meet the requirements for Hiroshima University, but I was saved by the A.O. (Admissions Office) entrance examination.
But at the university, I was absorbed in yachting, which had been my passion since my high school years.
I was so absorbed to the extent that I was sometimes scolded by Dr. Umino. (Laughs)
Despite this negative factor, I was able to receive the awards you mentioned. Thanks to Hiroshima University which always support motivated students. I knew this and I made use of the teacher assistant and researcher assistant systems. When I made presentations at some international scientific conferences that was held in overseas, I took advantage of as many support programs as possible, such as the grants offered by the graduate school and the other grants from the Hiroshima University Alumni Association and "Ryokusui-kai," the alumni association of the School of Applied Biological Science.
The Three-Minute Competition for Future Doctors is a program organized by the Global Career Design Center. I participated in both Japanese and English sessions as well as the international conference. It was a valuable experience for me.
Sakai: Everybody is watching you.
Just hearing your name, your face comes to our mind.
This is because you have worked very hard.
You work hard to meet the expectations of the programs and faculty members. Such efforts are deservedly recognized. Students with high aspirations are encouraged by the university and its faculty.
Tomano: I truly appreciate the encouragement given to me.
There are many kinds of awards, and no recommendation letters are required for the application submissions for most of them. If you receive an award, you can add it to your resume. You can apply for them on your own. You can fill out the application form by yourself. I think this is very fair.
I have applied for as many support programs as possible. No other students have applied for them. As a result, I have "monopolized" them, which makes me feel sorry for other students.
Sakai: You shouldn't be. (Laughs) Your approach of "Grab whatever you think will be beneficial to you" is powerful.
You must be the type of person who accepts an offer without hesitation. Am I right?
Whatever you do, you gain something. That's your skill. It's important. It's important for a researcher, too.
It is important to be ready to act at any time. Definitely.
Tomano: It takes a lot of time to fill out an application form and prepare for a presentation. That's true, but I think it is worth the effort I was able to participate in the English session because I had an experience in tutoring international students as a part-time job(*11), which I started when I was on the master's program.
I was able to get this part-time job easily. Immediately after applying for it, I was accepted. This experience helped me improve my English proficiency.
To be honest, English was my weakest subject in high school. I was not proficient at English. So I was looking for a way to learn English while making money. Then, there it was. I could make friends with international students, make money, and learn English. "Kill three birds with one stone."
If you need a program that suits your purpose, you can almost always find one at Hiroshima University.
Sakai: You are going to the United States under the Overseas Research Fellowships Program of the Japan Society for the Promotion of Science(*12), aren't you?
"What these two researchers are aiming at"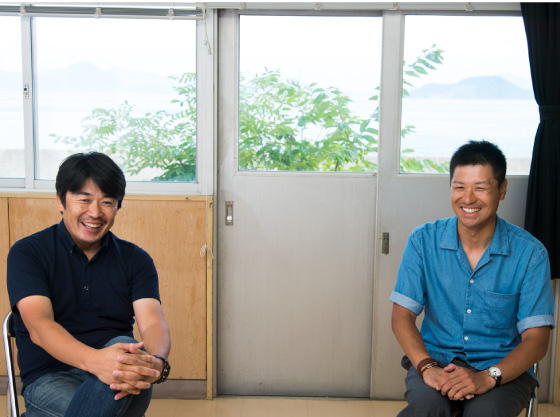 Tomano: Yes. I'm going to the United States as a researcher representing Japan.
I will visit a professor whom I have never met before. I knew him from his research paper and I thought, if I could combine my research samples and methods to his research, we can conduct better research that nobody else has conducted before. That is what I thought.
I emailed him about my thoughts. He emailed me back immediately saying, "Okay. Come and see me."
I think he probably thought the same way as I did.
This is a world where you cannot win anything unless you act as soon as you think of it. So, whenever I decide what I want, I put things into action. Wherever I want to go, whether it's in or outside of Japan, I just go. This is my way.
Sakai: You are paving your way by yourself. I admire you.
Tomano: Until now, for better or worse, people have regarded me as a student of a teacher at a laboratory. I now strongly hope to improve myself to be competent enough to be well regarded even without such title.
Sakai: That's exactly what a young, confident person thinks when he or she is determined to achieve what he or she wants to do. I also did not want to ride on the coattails of my professor. I agree with you.
A highly motivated attitude, I think that's the right attitude.
Tomano: For the next two years, I hope I could at least achieve what I have written in my research plan. To tell you the truth, I filled out this application form while I was sailing on the Pacific Ocean. Ha ha ha!
Sakai: That's impressive. On a pitching, rolling boat? (Laughs)
Tomano: In my hometown, my grandfather and other relatives sail to oyster rafts. I used to help them on a swaying boat.
Sakai: Boats and alcohol are similar in terms of tolerance. There are people who never get used to the boat's motion. I feel sorry for those who are academically excellent but easily suffer from seasickness and therefore can't sail in a boat. I just sleep if I feel seasick. (Laughs)
So, you are truly the chosen one. Boats may have served as a selective pressure for you. (Laughs)
In the future, one of the requirements for becoming a university faculty member will be "overseas activities."
In this sense, having decided to go abroad to conduct research, you are a role model for young researchers.
The Japanese government intends to encourage young people like you, and you are taking advantage of the government's offer. (Laughs)
Every effort we make is for our own sake. You go because you find it interesting, and you take on challenges in the new world and expand your personal network.
Tomano: Yes. I may be optimistic. Probably because I used to do sports.
If you are serious in practice, you can achieve good results in games. I enjoy the sense of tension in an actual game. I like to compete with others to improve my concentration ability.
So, I will continue to enjoy doing research activities.
Sakai: What is your goal as a researcher?
Tomano: I want to be the name that springs to mind when people say, "Speaking of research on squid…" My big goal is to become a researcher on marine organisms who represents Japan.
Before I reach the goal, I first want to become a university faculty member like you, and establish my position. I hope to conduct various kinds of studies together with students.
As a researcher, I want to publish my research papers in prominent scientific journals, particularly Nature and Science(*13).
As early as possible, whatever it takes. (Laughs)
Sakai: In addition to your doctoral thesis, you have already published many papers in English, which you cannot do so easily.
You make serious efforts to stand on your own two feet to become independent. You already have as much knowledge and experience as any graduate student. You also have more than enough experience in fieldwork. So, I personally think it will not be difficult for you to achieve the goal you mentioned.
Gain as much experience as possible overseas to expand your knowledge.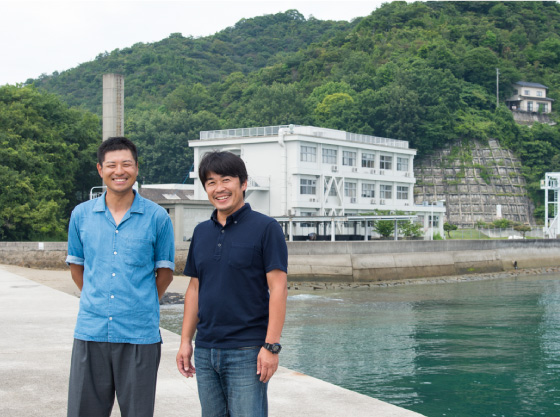 Tomano: Your encouragement means a lot to me.
I will study hard for the next two years in the United States and continue my efforts to improve myself so that I can join a group of faculty members and researchers.
Sakai: I'll look forward to your coming back to join us. I enjoyed talking with you today. Thank you.
Tomano: Thank you to you too.
[Interviewed on July 10, 2017]