Investigating wild frogs to explore the mysteries of sex determination,
sex chromosomes and the evolution of new species
The research group led by Associate Professor Miura is studying frogs in the wild, in order to clarify the evolutionary mechanisms of sex chromosomes and sex determination system, and their evolutionary reasons for their plasticity. His research group primarily focuses on the following four points:
 1.Evolutionary mechanisms of rapid sex chromosome turnover
 2.Transition of the sex determination system: from XY to ZW
 3. Discovery of a new species
 4. Genomic change in accordance with speciation
Before going into the details, let's take a brief look at the findings made so far in relation to these studies.
■

About sex-determining genes

Deoxyribonucleic acid (DNA) is the major genetic material of living things. DNA is present in a cell nucleus, forming a "chromosome," which is a composite of a DNA molecule and special proteins. The chromosome that carries a sex-determining gene is distinguished from the rest, and called "sex chromosome." The process by which a male or female body is completed involves various functions of many genes. Among them, "a sex-determining gene" is positioned at the top of the regulation process, and play a leadership role in that process. In 1990, a gene called "SRY (sex-determining region Y)" was discovered in humans, for the first time among vertebrates. This discovery was thought to have revealed much about the sex-determining genes. However, subsequent studies proved that the number of sex-determining genes was not limited to just one. Thus far, scientists have identified six different sex-determining genes in vertebrates. That is to say, it has been found that sex chromosomes are not invariable, but can vary according to the species or regional group. This phenomenon is known as the "turnover of sex chromosomes (sex-determining genes)."
■

About sex determination systems

There are two distinct systems that determine whether an organism is male or female. One is the XY system, in which genetic sex determination is based on XX/XY chromosomes (♀XX - ♂XY), typically found in mammals, including humans. The other is the ZW system, in which genetic sex determination is based on ZZ/ZW chromosomes (♀ZW - ♂ZZ), typically found in birds. What differentiates these two systems is where the initiative lies in sex determination. In mammals, the XY male is genetically induced and the Y chromosome takes the initiative in sex determination, whereas in birds, the ZW female is genetically induced and the W chromosome takes the initiative in sex determination. The other sex is determined by default (automatically). However, these systems are by no means ubiquitous. It is rather exceptional that a single type of genetic sex determination system has a monopoly in a large group of species, as in the case of mammals and birds. Recent studies have begun to reveal that, when looking at vertebrates as a whole, in some cases the sex determination system differs between species or among regional populations belonging to the same species. In other words, the XY system and the ZW system are interchangeable.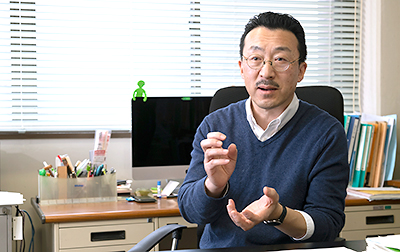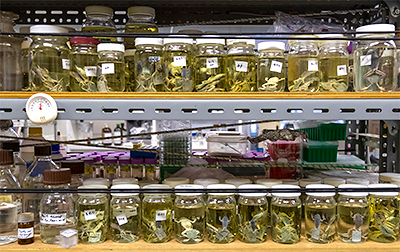 Based on the above understanding, Associate Professor Miura's research group has implemented the following studies, and achieved various results.
1. The mechanisms of rapid sex chromosome turnover and the evolutionary reasons
First, his research group found that most frog species have 2n=26 chromosomes (n=13), and their chromosomes have evolved in a remarkably conservative manner. Then, after compiling the data on chromosomes of 20 or more frog species, his group discovered that frogs had six different sex-chromosomes. The results indicated that "sex chromosome turnover is not random, but it is repeated between the six specific chromosomes (sex-determining genes)." Furthermore, his group conducted joint research with overseas study groups, and they newly identified sex chromosomes in 19 frog species. Combined with nine existing species, a total of 28 species were analyzed, and the results revealed that 13 sex-chromosome turnover events have occurred within the past 55 million years of phyletic evolution.
However, the fundamental questions—why sex-chromosome turnover is necessary, and the nature of the mechanism of sex-chromosome turnover—remain unresolved. Currently, research is under way to address these questions, using Odorrana swinhoana, a beautiful frog species endemic to Taiwan.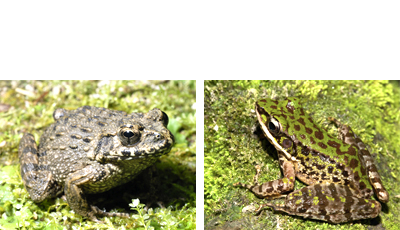 Two frog species that hold the key to clarify the evolutionary mechanisms of sex-chromosomes
(Right) Soil-frog (Rana rugosa) (Left) Swinhoe's brown frog (Odorrana swinhoana)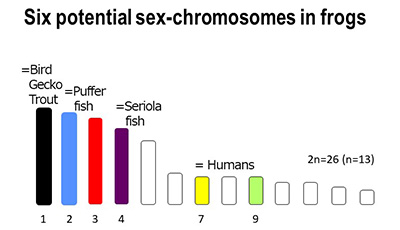 The above is a color-coded graph indicating six potential sex chromosomes in frogs. These chromosomes are defined as "potential sex chromosomes." Any of them can be chosen by a species or a regional group. This graph also shows data on other animals that employ similar chromosomes as their sex chromosomes.
2. Transition of the sex determination system: from XY to ZW
In 1993, the research group led by Associate Professor Miura discovered regional variations in sex-chromosomes and sex determination systems in the tsuchigaeru (Japanese soil-frog, Glandirana rugosa), which inhabits all areas of Japan except Hokkaido (northern region). Even now, the soil-frog has been attracting worldwide attention, as an example of sex determination changes between regional populations that are genetically most closely related to each other. His research group paid particular attention to the fact that both genetic sex determination systems are present in the soil-frog: XX/XY and ZZ/ZW. According to Associate Professor Miura, "This means that a change to the ZW system has taken place in some regional populations, since the original sex determination system of the soil-frog is the XY type. On the basis of this discovery, we supposed that the difference between the XY and ZW systems would not be so large as that between mammals and birds. Rather, the difference between the two may be very slight, just like two sides of the same coin. We also thought that their mutual transitions may be easier than expected." Then, his research group took several genetic approaches to investigate the process of transition from XY to ZW, and the evolutionary reason thereof. Through these studies, they inferred that in the past, two original groups had interbred causing the sex ratio of the hybrid group to lean to one side, and that this was the reason for the emergence of the ZW system, a new sex determination system.
3. Discovery of a new frog species
In the course of the above two studies, when investigating the soil-frog, in 1999 Associate Professor Miura received a report on "a strange soil-frog" found on Sado Island in Niigata Prefecture. The soil-frogs inhabiting the length and breadth of Japan share a common external appearance: an earth-colored back, and a white abdomen with brown spots. On the other hand, the frog found on Sado Island had a vivid yellow abdomen. Subsequently, as a result of genetic investigations and data collection on interbreeding experiments, the Sado frog proved to be clearly different from the soil-frog, and was officially described as a new species, named "sadogaeru (Sado frog, Rugosa susurra, which is now described as Glandirana susurra)" in 2012. Associate Professor Miura says, "Previously, common knowledge among researchers held that all the animals living on Sado Island were genetically not so different from those on the Japanese mainland, and that there was no species endemic to Sado Island. After this discovery, however, their ways of viewing Sado animals obviously changed. I believe that the discovery and description of the Sado frog as a new species represent a paradigm shift, which was sought after by many researchers."
4. Genomic change in accordance with speciation
Since changes in the sex determination system have a great impact on the sex ratio in a population of organisms, sex determination can be regarded as the most important mechanism for the continued existence of species. Notably, the sex determination mechanism can be often disturbed by interbreeding between different species, resulting in an imbalance in the sex ratio. This means that sex determination is also one of the mechanisms that provides a basis for reproductive isolation (non-interbreeding) between different species. On the other hand, a major characteristic of interspecific hybrids is a type of reproductive isolation called "hybrid sterility." Close investigation into sterility has clarified that a loss of genomic affinity between two different species causes problems in terms of pairing, segregation and division of chromosomes, making it impossible to form normal gametes. However, virtually no research has been undertaken to elucidate the molecular mechanism responsible for these problems. Associate Professor Miura's research group has been addressing this task, that is, "clarification of the molecular mechanism for speciation," using the European water frog Pelophylax esculentus, which inhabits Russia.
The European water frog Pelophylax esculentus is a natural hybrid of two different species—the marsh frog Pelophylax ridibundus and pool frog Pelophylax lessonae. In the case of Pelophylax esculentus, it is known that, in the germ cells contained in its gonads, the resultant hybrid totally eliminates the genome from one of its parent species, ensuring that only the gametes of the remaining species are produced. "This is a phenomenon known as 'hybridogenesis.' Although it was discovered more than 50 years ago, its elucidation has remained a classic and important challenge. To address this challenge, our group is currently conducting ecological and genetic research, in collaboration with Russian researchers, under a bilateral exchange program between Japan and Russia," says Associate Professor Miura.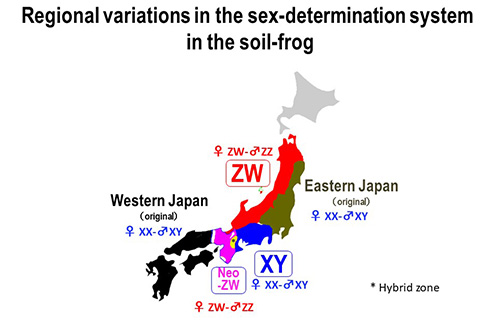 The above figure shows regional variations in the sex determination system in the soil-frog living in Japan.
This frog species is largely divided into five regional groups. Among them, three groups adopt the XX/XY sex determination system that is typically found in mammals, and two groups employ the ZZ/ZW system that is typically found in birds.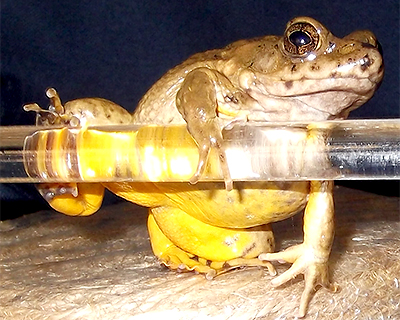 Sado frog living on Sado Island, Niigata Prefecture. This frog was officially described as a new species in 2012.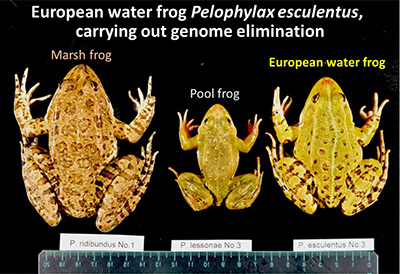 The European water frog Pelophylax esculentus is a natural hybrid between the marsh frog Pelophylax ridibundus and pool frog Pelophylax lessonae. In its gonads, the resultant hybrid totally eliminates the genome from one of its parent species, ensuring that only the gametes of the remaining species are produced. Pelophylax esculentus is known as a classic subject for studies intended to clarify the mechanism of genome elimination.
Taking advantage of the research environment offered
by the world's one and only facility that allows researchers to raise,
breed and genetically analyze wild frogs
The above-stated research activities of Associate Professor Miura are underpinned by the Amphibian Research Center, of which Hiroshima University is justifiably proud to the world. According to him, although frogs in the wild have been widely studied in Japan and abroad, the Amphibian Research Center of our university is the world's one and only facility where researchers can conduct so-called genetic analysis, i.e., the methodology of raising wild frogs indoors and continuously analyzing them over many generations. For this reason, in conducting any research, Associate Professor Miura takes advantage of the features of this one-of-a-kind center, making his work unrivaled in the world. His group's research findings have been published in several papers in succession. Associate Professor Miura was awarded the 2013 Prize of the Society of Chromosome Research.
Originally, he started to study frogs when he was a third-year student at university. Associate Professor Miura recalls: "When I encountered a beautiful frog called the 'Forest Green Tree Frog' (Rhacophorus arboreus) in the field, I was strongly impressed with the frog. This experience spurred my interest in frogs, making me want to study them." Then, after studying frogs in an undergraduate course for one year, he entered the graduate school of Hiroshima University, since it owns the Amphibian Research Center (then the Institute for Amphibian Biology), which deserves its reputation as a "mecca of frog studies," in order to pursue further in-depth investigation. Since then, he has devoted himself entirely to research on frogs.
He says with a smile, "When I first came across a frog, it left a deep impression on my mind. And my strong passion for frogs remains unchanged. It may be stronger than my feeling of love. Surprisingly, my passion has never faded."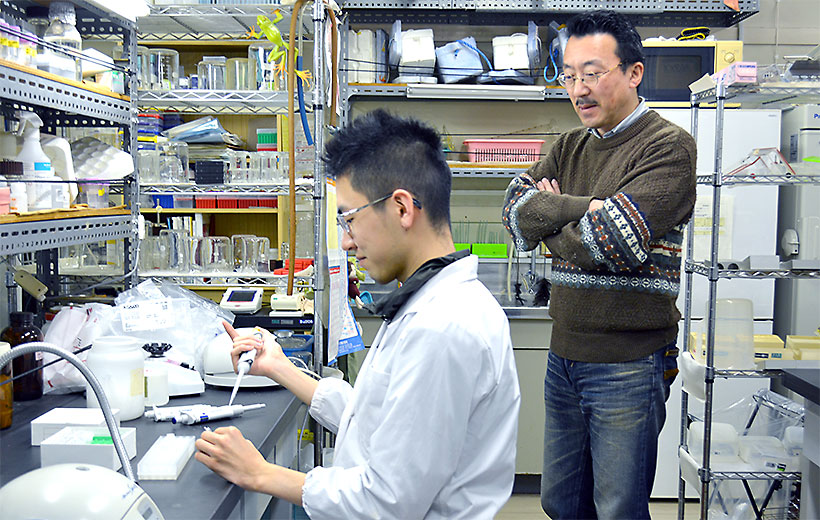 Aiming to discover the fundamentals and principles of life phenomena and
bring about a paradigm shift
Associate Professor Miura says, "The joy of research lies in becoming aware of what other people are still unaware of, ahead of all others. Also, the greater the time gap between you and the others, the greater the joy." However, it is very difficult to do so. He adds that, although he sometimes becomes aware of something anywhere from several months to one or two years ahead of others, he seldom notices something five or 10 years ahead.
According to Associate Professor Miura, he underwent many bitter experiences before his achievements were widely recognized. For example, wild frogs generally take one year or so to reach maturity. Wild frogs are therefore considered very inefficient, compared to other laboratory animals, such as mice, which take about two months to mature, and Drosophilae, which take a little less than a month. So some people even say that using frogs is not helpful to genetic research. He also adds that there has been a very uncomfortable atmosphere surrounding him and his colleagues when they make presentations at academic meetings. Associate Professor Miura explains, saying, "Since researchers investigating wild frogs are in a minority, when we report on our findings about frogs, very often many members of the audience are perplexed and have difficulty understanding what we are talking about. This is because the majority of the participants are researchers studying mammals and birds, and their common knowledge is substantially different from ours."
Looking back on the past, he says, "We discovered the transition of the sex determination system in the Japanese soil-frog in 1993. However, it is only in the past 10 years or so that this discovery has become widely recognized. I thought that we might have been about 15 years ahead of the times." Although he continued to endure solitude and hardship until he achieved general recognition, "while repeating such experiences, I have seen more people join us, enhancing the joy of our research," says Associate Professor Miura.
When asked a final question, "What do you think is the most important thing for research," he answered "intuition," without hesitation. He said "Dr. Toshitaka Hidaka, known as the founder of ethology in Japan, used to assert that research means completing subjectivity with objectivity. Meanwhile, many researchers are currently pursuing research in the field of gene evolution, taking the gene duplation theory for granted. However, this idea was first proposed in 1970, approximately half a century ago. If you read "Evolution by Gene Duplication," a hypothesis released at that time, you will realize that this theory was exactly on point, despite an extreme scarcity of data and information to support the theory. It was the culmination of the extraordinary intuition and wisdom of Dr. Susumu Ono, who proposed the idea. After he made the proposal, it can be said that researchers around the world accumulated objective data for many years to establish the rules created by his subjectivity. In summary, I think that what is important for research is inborn intuition and an environment that enables researchers to demonstrate that intuition.
Scientific research begins with subjectivity and intuition, and then the researchers build up evidence by collecting objective data. With this enthusiastic belief, Associate Professor Miura and his research group continue to investigate wild frogs every day.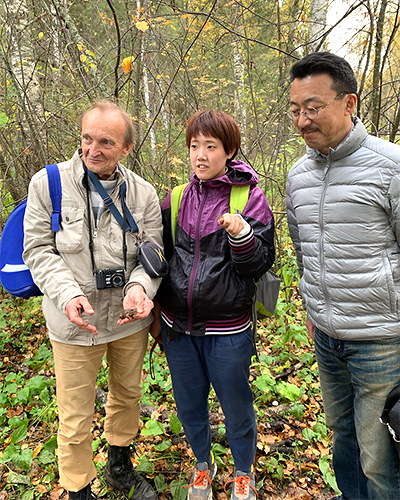 Frog survey conducted in Russia in 2019
Members conducting a survey in Russia to clarify the genome elimination mechanism in the European water frog Pelophylax esculentus
From left, Dr. Vladimir Vershinin (a research collaborator and Professor at Ural Federal University), Ms. Chiao Kuwana (a first-year Master's student of Hiroshima University at that time), and Associate Professor Miura.
(In Yekaterinburg, in September 2019)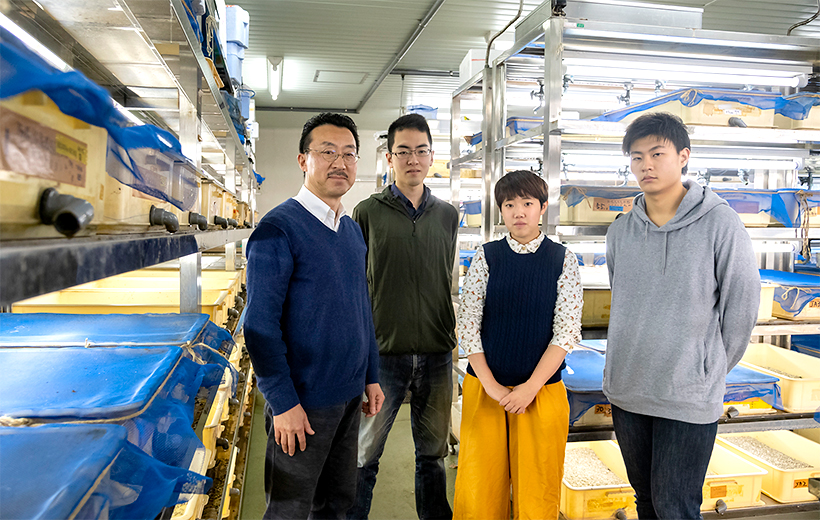 Opened on August 01, 2020