Driven to exploration by interest in brain chemicals
as a shortcut for understanding the mechanism of "mind"
The subject of Prof. Ukena's scientific interest is the relationship between the mind and human body. His intellectual curiosity about the brain's functions and mechanisms related to our mind drives him to his research.
"It all started when I was a high-school student. I came to know that, in the brain, there are transmitters, such as endorphin, that have the effect of causing a feeling of euphoria. They are pleasure chemicals, so-called "intracerebral narcotics"," Prof. Ukena says.
With the aim of becoming a researcher of these brain chemicals, he entered Hiroshima University, where he began research on peptides, chains of amino acid molecules. When he started up his own laboratory afterward, with a thought that there must be unknown peptides in the brain, he decided to try finding them.
In the first place, he focused on the relationship between appetite and feelings. He says: "For example, stressful life conditions often induce us to overeat. Also, eating delicious food makes us feel happy. I wanted to discover brain factors associated with these kinds of appetite control."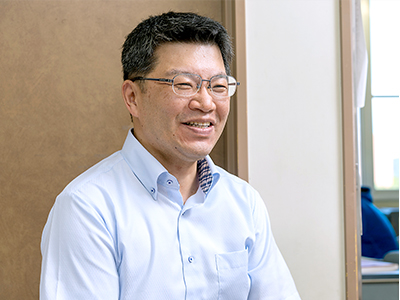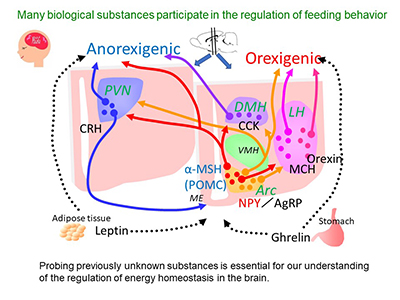 After continuing research, in 2014 in the first place, his research team discovered a precursor gene encoding a small protein, which was named "neurosecretory protein GL" (NPGL), from the infundibulum of the hypothalamus of chickens and published a paper. The team subsequently succeeded in chemically synthesizing NPGL efficiently by using a peptide synthesizer and published a paper on the peptide synthesis method. Furthermore, in 2017, the team published a paper on their findings about the physiological functions in rats and mice.
He says: "What we found first is a novel brain chemical that leads to the control of growth. We named this substance in the brain of chickens "NPGL," but we subsequently found that the NPGL gene is conserved widely in the brain of vertebrates."
Therefore, the team expanded their research subject to other vertebrates, which eventually led to a series of announcements of their significant world's first findings: "NPGL is associated with the appetite control of mice" and "In rats, hunger and a low level of insulin in the blood increase the expression of NPGL. In high-calorie-fed rats, NPGL promotes overeating and fat synthesis, consequently causing obesity."
Prof. Ukena says: "Following chickens, we found NPGL in the brain of mice. Subsequently, we also made analysis with rats. In the research with mice, we were able to reveal that NPGL is associated with the control of appetite and energy metabolism. In the research with rats, we found that, besides the effect of controlling appetite, NPGL promotes fat accumulation by converting carbohydrate into fat, namely, it causes obesity."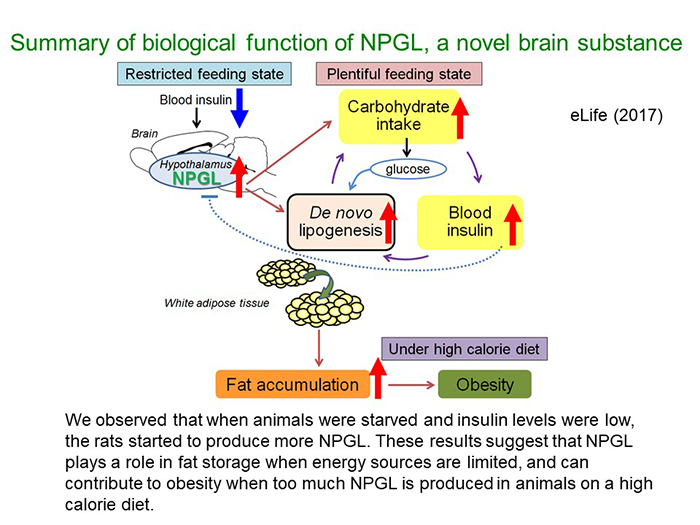 Toward the realization of appetite control by brain chemical regulation,
human-level application is highly anticipated
Prof. Ukena's research team made another finding. In 2018, it was announced as the topic "Another brain factor that has a revolutionary relationship with NPGL (named "NPGM") also has the function of controlling energy metabolism."
「"We found that NPGM is expressed in the hypothalamic area of chickens; particularly it is produced in histamine neurons. The structure of NPGM is similar to that of NPGL, which means that they have a sister-like relationship with each other. Since we found that NPGM also has the effect of controlling energy metabolism, we will proceed with verification with mammals. NPGL and NPGM have potentials for various future applications, such as the clarification of our appetite control mechanism, the development of drugs for obesity, and the creation of poultry that efficiently grow with less feedstuff," says Prof. Ukena.
These series of achievements are all highly evaluated as findings that could lead to clarifying the mechanisms of our overeating and feeding control and also play an important role in the treatment and improvement of modern diseases, such as metabolic syndrome and eating disorders. They also have acquired related patents. Prof. Ukena specifically explains his prospects as follows:
"Since it has been found that increased NPGL leads to overeating, for example, it may become possible to prevent overeating by suppressing appetite with a drug that controls the effect of NPGL. Slimming drugs are a far-off dream, but I think that application to the development of drugs that prevent obesity is possible. Also, I think that the effectiveness of low-carb diets, a recent fad, is scientifically supported by the finding that NPGL leads to fat accumulation by promoting carbohydrate intake and converting glucose into fat."
The future development of this high-potential research is drawing much attention from many quarters.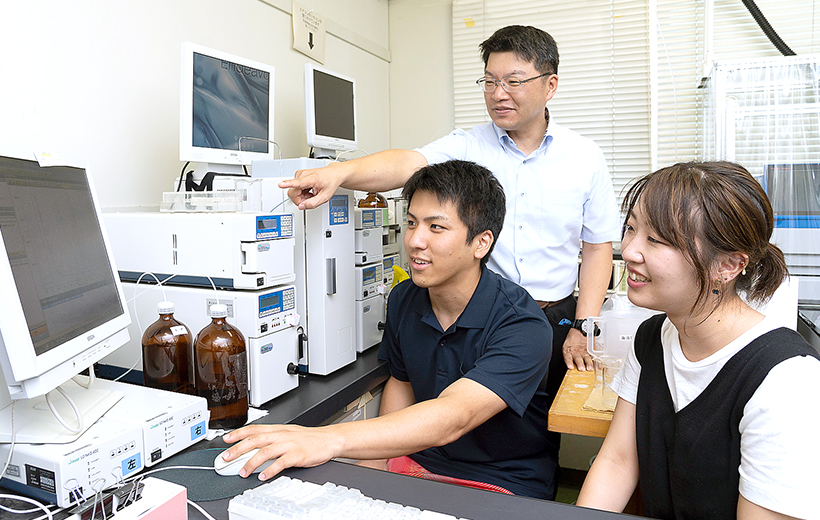 With the motto "one and only unique research,"
he approaches a mystery by revealing facts one by one
As described, Prof. Ukena strives to proceed with "one and only" unique research, aiming to find unknown brain factors and clarify their functions. Of course, he pursues the highest level of research in the world.
"The fun part of our research is to clarify the functions and effects of things that no one knows in a step-by-step manner. It is exciting to explore an unknown world from the very beginning. Of course, we face many difficulties, but essentially, research does not always proceed as expected. Nevertheless, it can happen that we unexpectedly find something amazing. This kind of unexpected finding is an incomparable pleasure," Prof. Ukena says.
"It is important to pay attention even to tiny details without overlooking them. Researchers' task is to steadily continue research without missing even tiny details and compile findings into an academic paper. If we can concentrate on research, it is fun. But the process to be published as a paper is very tough. Even so, since students make great efforts, their growth is one of my pleasures," says Prof. Ukena while smiling.
With the aim of clarifying the cross-network between neural, endocrine and immune mechanisms, he is also involved in research on antibacterial peptides in the skin of amphibians in order to clarify biological defense mechanisms (natural immunity) at the molecular level.
He says: "My next target is to clarify the universal physiological effects of substances that exist in the body of all animals from our ongoing research with chickens, mice, rats and amphibians. To achieve this target, we need cooperation of experts in other fields, such as medical science. While attempting various kinds of research, I want to approach the clarification of the relationship between the mind and human body, which I originally dreamed. I will continue research that will unravel this mystery."
Prof. Ukena, who says that he still has a boy-like curiosity, has an inquisitive mind and a great willingness to take on new challenges.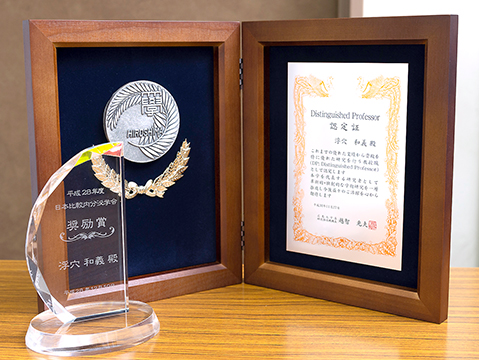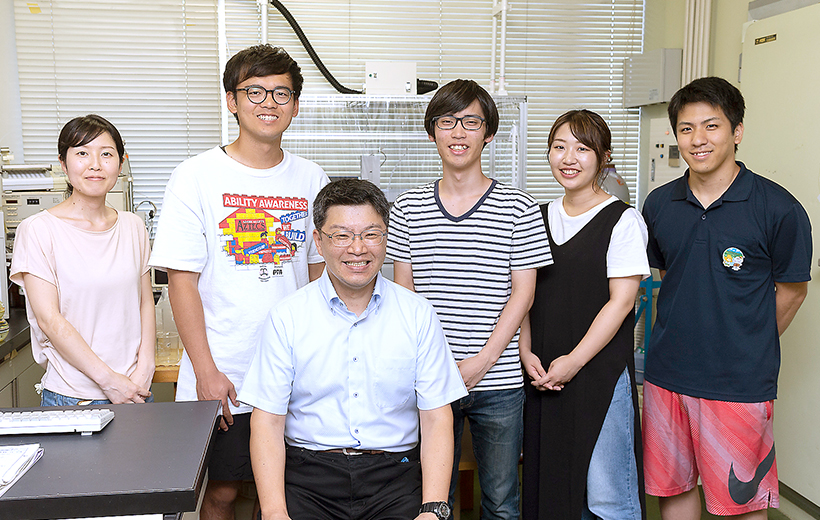 Opened on March 25, 2020